Caldera Boat Trip - Santorini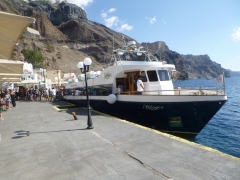 The massive volcano eruption gave Santorini its unique shape and formed the beautiful water-flooded caldera inside the sea, with several volcanic islets sticking out of it. During the cruise through the caldera you will visit the famous islets of Nea Kameni, Palea Kameni and Thirassia.
Santorini, Caldera Boat Trip on the map

A cruise through the caldera is a favourite trip of many travel agencies and also local holiday companies. It is a full-day tour with several interesting stops. It starts in the morning from the Athinios Port. The first stop is Nea Kameni, a still active volcano. For an entrance fee, excluding children, you can get to the crater by a touristic pathway. The tour continues to the second volcanic islet of Palea Kameni (Palaia Kameni), known for its hot sulphur springs. You can feel their power by enjoying a relaxing bath directly from boat. The last stop is Thirassia, an inhabited stony island where the tourists are usually given more time to explore it (around 2 hours) - either for a walk, to visit the small city of Manolas or just to relax on the beach.
Some travel agencies offer also an evening variant of the trip, including the possibility to watch the sunset directly from the boat. Starting from Athinios Port in the afternoon, the romantic cruise, with hot springs bathing at Palea Kameni island and delicious dinner served on deck (usually in form of buffet) continues around the caldera. At the end of the tour around the time of the sunset, the captain anchors the boat in a place, from where you will have a great view of the setting sun.
Except visiting the above-mentioned islands, you will definitely enjoy even the cruise itself, as you will have an amazing view of the whole west coast of Santorini, especially of the cities of Fira, Imerovigli, Firostefani and Oia.
More touristic destinations of Santorini
Tips for trips on Santorini: Caldera Boat Trip, Sunset in Oia, Most beautiful beaches of Santorini, Discovering the beauties of the capital city of Fira, Visiting Ancient Thera
Resorts, beaches, sights or trips - clearly listed on the map of Santorini.
Did you visit this place and do you have some additional informations, interessting observation or photos?