Folklore Museum (Kontochori) - Santorini
Folklore Museum E. A. Lignose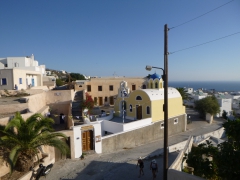 Get a closer look at the culture and traditions of life on the Greek island of Santorini and visit the E. A. Lignose Folklore Museum, located near the capital Fira, in an area called Kontochori.
Santorini, Folklore Museum (Kontochori) on the map

The Museum of Folklore is housed in a traditional, so-called cave house, which was built in 1861. The building survived the great earthquake of 1956 and came to life again in the 1970s thanks to Emmanuel A. Lignos, lawyer, journalist and editor of the monthly magazine "Theraic News". He renovated the various rooms of the house, furnished them with antique furniture, dishes and other everyday items of the islanders and opened the Folklore Museum in 1974. E. A. Lignos was to promote and raise awareness of the cultural heritage of Santorini.
The Folklore Museum introduces visitors to the way of life of the inhabitants of Santorini at the beginning of the 20th century and the traditional arrangement of the so-called cave house, so typical of this Greek island. You will have the opportunity to look into the period bedroom, kitchen, dining room as well as the cellars and storage areas. The exhibition includes a traditional home winery with barrels, workshops for carpenters, plumbers and shoemakers and a small cave. The museum also boasts an extensive library containing unique photographs of Santorini, old and new books on Santorini and the whole Aegean region, newspaper articles, maps and rare manuscripts.
In the 1990s, the museum grounds and the museum building itself were expanded to accommodate an art gallery (containing several drawings, oil paintings, watercolours and other works by famous Greek artists inspired by the island of Santorini) and some new workshops. Likewise, the Chapel of St. Constantine (Agios Konstantinos) with a beautiful bell tower has been built in the local courtyard, and a beautiful garden with trees and flowers completes the pleasant environment around the museum.
If you are interested in Greek history and the history of Santorini, we recommend a visit to the capital city of Fira, which is very close by, and especially its Archaeological Museum of Thera (which traces the history of Santorini from the earliest times to the present day) and the Prehistoric Thera Museum (which collects historical artefacts from all over the island, especially from the archaeological site of Akrotiri).
More touristic destinations of Santorini
Tips for trips on Santorini: Caldera Boat Trip, Sunset in Oia, Most beautiful beaches of Santorini, Discovering the beauties of the capital city of Fira, Visiting Ancient Thera
Resorts, beaches, sights or trips - clearly listed on the map of Santorini.
Did you visit this place and do you have some additional informations, interessting observation or photos?