Church with spring Zoodochos Pigi - Santorini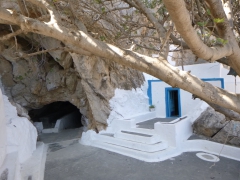 The small Orthodox church of Zoodochos Pigi stands in the mountains off the east coast of the Greek island of Santorini, near the town of Kamari. The church is famous for the natural "life-giving" spring that springs up here.
Santorini, Church with spring Zoodochos Pigi on the map

The church of Zoodochos Pigi can only be reached on foot and is reached by a small winding hiking path leading from the seaside town of Kamari to the ancient Thera (now the archaeological site of Thira). The small chapel is protected by massive rocky cliffs and the otherwise desolate surroundings are only disturbed by a few stone chairs placed in the shade of trees.
Near the church there is a cave with probably the only natural spring of fresh water on the island - the so-called Zoodochos Pigi (in English The Life-giving Spring). The water from the spring drips from the ceiling and creates a small natural reservoir in the cave. The Zoodochos Pigi Spring was the main source of drinking water for the ancient city of Thera and, in fact, for the rest of the island of Santorini, although it is estimated that the water supply may not have been sufficient. However, in the past and today, the spring also serves as a refreshment for weary passers-by. You can even enter the cave and drink this "life-giving water".
More touristic destinations of Santorini
Tips for trips on Santorini: Caldera Boat Trip, Sunset in Oia, Most beautiful beaches of Santorini, Discovering the beauties of the capital city of Fira, Visiting Ancient Thera
Resorts, beaches, sights or trips - clearly listed on the map of Santorini.
Did you visit this place and do you have some additional informations, interessting observation or photos?