St. Nicholas Monastery - Santorini
Monastery of Agios Nikolaos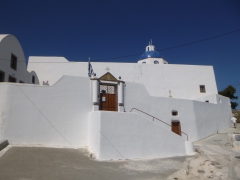 The historic women's monastery of Agios Nikolaos (St. Nicholas) dates back to the mid-17th century, making it one of the oldest monasteries on the Greek island of Santorini. In its present form, it stands on a rocky peak off the west coast of the island.
Santorini, St. Nicholas Monastery on the map

The origins of the original monastery of Agios Nikolaos date back to 1651, when the Gyzi family, one of the few Orthodox families on the island, lived in the Venetian castle of Skaros. The family decided to convert their private chapel into a monastery and dedicate it to Saint Nicholas. The girls of the Gyzi family became its first nuns. Here the convent stood until 1815. In that year the Archbishop of Santorini gave permission to move the convent to a new, more accessible location. The construction of the new monastery lasted until 1820 and the monastery still stands on this site and in this form today. In the mid-19th century it became the property of the Greek state.
Today, the Monastery of St. Nicholas is located between the villages of Firostefani and Imerovigli, with a stunning view of the flooded caldera. The monastery building consists of the Church of St. Nicholas and 32 cells (rooms) used to house the nuns. Nowadays, the large halls of the monastery house a folklore museum and a religious museum, which preserves rare Byzantine icons (and especially the icon of St. Nicholas) and a magnificent carved iconostasis.
The place comes alive most during the Easter season, one of the biggest and most popular holidays of the year in Greece, and Greeks prepare for it long in advance.
More touristic destinations of Santorini
Most favourite sights of Santorini: Akrotiri (archeological site), Archeological Museum of Thera, Agios Anastasios Church (Imerovigli), Panagia Platsani Church (Oia), Akrotiri Lighthouse, Ruins of Byzantine castle (Oia), Ancient-Thira (archeological site)
Resorts, beaches, sights or trips - clearly listed on the map of Santorini.
Did you visit this place and do you have some additional informations, interessting observation or photos?