Church of Agios Gerasimos - Santorini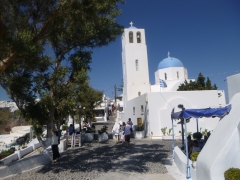 The beautiful parish church of Agios Gerasimos (or Saint Gerasimos) is located in the small town of Firostefani, off the west coast of the Greek island of Santorini. The traditional Greek church is one of the most photographed monuments on the island of Santorini, as it offers a truly stunning view of the caldera.
Santorini, Church of Agios Gerasimos on the map

The church of Agios Gerasimos was built at the beginning of the 19th century and its appearance fits perfectly into the so-called Cycladic architecture of Santorini - it is white with a blue domed roof and a nice bell tower. The church stands high on the rocks off the west coast of the island, giving visitors an extraordinary spectacle, as the whole vast caldera will be in the palm of their hands. Photographers, in particular, do not hesitate to climb the bell tower to get the best shots.
More touristic destinations of Santorini
Most favourite sights of Santorini: Akrotiri (archeological site), Archeological Museum of Thera, Agios Anastasios Church (Imerovigli), Panagia Platsani Church (Oia), Akrotiri Lighthouse, Ruins of Byzantine castle (Oia), Ancient-Thira (archeological site)
Resorts, beaches, sights or trips - clearly listed on the map of Santorini.
Did you visit this place and do you have some additional informations, interessting observation or photos?