Agios Anastasios Church (Imerovigli) - Santorini
The Anastasios Church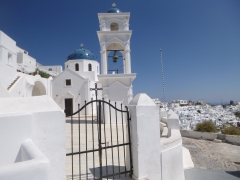 Santorini is known for its countless amount of beautiful white churches with typical blue roofs. The church of Saint (Agios) Anastasios belongs to the most beautiful ones. It stands above the city of Imerovigli, located on the west coast of the island.
Santorini, Agios Anastasios Church (Imerovigli) on the map

The uniqueness of Agios Anastasios lies in its location. The church is built on a hill and offers the visitors an great view of the surroundings, looking so small from here. You have a wide view over the island as well as of the sea. No wonder that many couples in love choose the church for their wedding. The ceremonies are very often held during the sunset, when really stunning wedding photographies can be made.
More touristic destinations of Santorini
Most favourite sights of Santorini: Akrotiri (archeological site), Archeological Museum of Thera, Agios Anastasios Church (Imerovigli), Panagia Platsani Church (Oia), Akrotiri Lighthouse, Ruins of Byzantine castle (Oia), Ancient-Thira (archeological site)
Resorts, beaches, sights or trips - clearly listed on the map of Santorini.
Did you visit this place and do you have some additional informations, interessting observation or photos?