Monastery Profitis Ilias - Santorini
Monastery of Prophet Elijah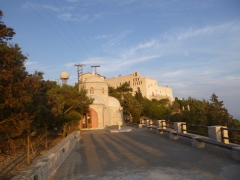 The iconic male monastery of Profitis Ilias (Prophet Elijah) rises 550 m above sea level on the highest peak of the Greek island of Santorini, bearing the same name Profitis Ilias.
Santorini, Monastery Profitis Ilias on the map

The current appearance of the building dates from the 19th century, but the monastery dedicated to the Prophet Elijah is much older. Work on its construction began in 1771, when monks Jáchym and Gabriel negotiated the support of Patriarch Cyril of Constantinople. At that time, this sanctuary could boast the title "patriarchal monastery". The monastery underwent a major expansion in the 19th century, when the Greek King Othon took a liking to the area and advocated its completion.
However, the monastery's spiritual activity was rather limited even in its time and did not have the same influence on the island as other religious schools. Today, the monastery serves primarily as a cultural monument, preserving precious historical objects and written records. The monastery is part of a museum that holds, for example, holy icons from the 15th to the 18th centuries, an old iron cross from the 12th century and gold-embroidered ornaments or silver-bound manuscripts. The so-called ethnographic museum has also been set aside here. What the monastery is most proud of is the local library. In the library one can find rare manuscripts as well as real uniquenesses, a huge number of leather-bound books, several volumes of the New and Old Testament and writings in various world languages.
However, the monastery is located in a rather remote location, away from the main tourist resorts of the island, and thus has a life of its own. Visiting hours to the monastery itself, as well as to the associated museums and library, are therefore very variable from one tourist season to the next. We therefore recommend that you ask either your delegate or the locals what the current situation is.
In any case, you can make your way to the top as a hiking destination from the nearby village of Pyrgos. Those who take the trouble to climb up to here will be rewarded with amazing views.
More touristic destinations of Santorini
Most favourite sights of Santorini: Akrotiri (archeological site), Archeological Museum of Thera, Agios Anastasios Church (Imerovigli), Panagia Platsani Church (Oia), Akrotiri Lighthouse, Ruins of Byzantine castle (Oia), Ancient-Thira (archeological site)
Resorts, beaches, sights or trips - clearly listed on the map of Santorini.
Did you visit this place and do you have some additional informations, interessting observation or photos?