Archaeological Museum of Thera - Santorini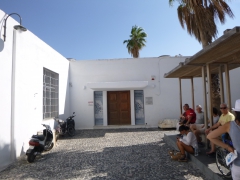 Archaeological Museum of Thera is located in the capital city of Fira in the western part of Santorini and protects many unique artefacts from various historical periods of the island.
Santorini, Archaeological Museum of Thera on the map

Unfortunately, the original first museum of Fira, founded at the beginning of 20th century, was destroyed by the massive earthquake in 1956. In 1960 a new museum was built to be able to store valuable finds from the excavations made near Ancient Thera, but also from other parts of the island.
Archaeological Museum of Thera maps the history of Santorini since the oldest times until today:
In the first museum premises several prehistoric exhibits are being exposed as for example beautiful vases from 20th - 17th century BC which have been discovered in the area of Akrotiri. The second part of the exposition is going to take us to the Ancient period (8th - 4th century BC), represented mainly by the collections of ceramic artefacts from the 6th century BC. Here we can see for example clay figures or vases decorated with geometric patterns. In the open space of the museum there are many statues and other items such as memory stones with lettering and big vases with relief. The exposition is finished by articles from the Hellenic and Roman age. Very impressive is the perfectly preserved 2,3 metres high marble sculpture of a young woman, which was found in Sellada.
More touristic destinations of Santorini
Most favourite sights of Santorini: Akrotiri (archeological site), Archeological Museum of Thera, Agios Anastasios Church (Imerovigli), Panagia Platsani Church (Oia), Akrotiri Lighthouse, Ruins of Byzantine castle (Oia), Ancient-Thira (archeological site)
Resorts, beaches, sights or trips - clearly listed on the map of Santorini.
Did you visit this place and do you have some additional informations, interessting observation or photos?