Messaria - island Santorini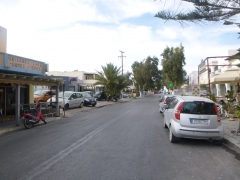 The resort of Messaria consists of the village of the same name, located in the central part of the Greek island of Santorini's interior, in a beautiful setting of vineyards and olive groves. Its distance from the main town of Fira is about 4 km.
Santorini, Messaria on the map

Part of the village is built on the caldera (the volcano's mouth) and offers an exclusive view of the volcano and the Aegean Sea. The origins of the village date back to the mid-17th century and it experienced its greatest boom in the 19th century, when it functioned as the industrial centre of the island and several estates grew up here in addition to a large factory. Today's Messaria is much more elegant, although its image is still a little wilder. The beauty of the area is accentuated by the vineyards that stretch across the entire Santorini hinterland.
Messaria is a friendly and lively resort with several shops, restaurants, cafes and other tourist services. You can stay here in hotels as well as individual apartments and rooms. Thanks to the sunny weather and fertile soil, wine growing thrives here, with local wineries specialising in the finer varieties. Take advantage of a visit to the village and be sure to take part in a wine tasting.
The ruins of the George Emmanuel Argyros Castle, dating from the 1880s, stand in the area. However, after a strong earthquake, the castle had to be repaired and now serves as a museum that collects furniture and other items from the 19th century. The site is also unique in that the ground floor of this neoclassical building functions as a luxury guesthouse. You can certainly imagine the amazing atmosphere.
Close to the resort are the other beautiful villages of Vothonas and Karterados, which you can also stop at on your way inland. We definitely recommend visiting the nearby capital Fira, with its magnificent monuments in the style of Cycladic architecture and a wide range of shopping and entertainment options. If you want to enjoy the sea and beaches, head to Kamari, for example, with its eponymous beach covered in black volcanic sand. South of Kamari is one of Santorini's most beautiful beaches, Perissa.
More touristic destinations of Santorini
Close resorts: Karterados, Vothonas
Most favourite resorts of Santorini: Akrotiri, Imerovigli, Kamari, Megalochori, Fira, Oia (Ia), Perissa
Resorts, beaches, sights or trips - clearly listed on the map of Santorini.
Did you visit this place and do you have some additional informations, interessting observation or photos?