Fira - Santorini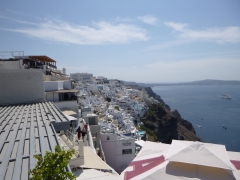 Fira is the capital city and administrative centre of Santorini. It lies in the western part of the island, at a height of 260 m above sea level.
Santorini, Fira on the map

After we have arrived at the Skala Port, there are three ways how to get up to the city of Fira. We can either walk up the almost 600 stairs going from the harbour until the city or there is also a cable railway available for the tourists. The third way is a little unusual, as you can get to the city on back of a donkey.
Also, here, you can admire the beautiful Cycladic architecture. The buildings are so white, that a view over the city from a ship can make give an impression of snow lying at the edge of the crater. The romantic atmosphere of this place is underlined by the countless balconies and terraces with stunning sea view. There are small curvy streets between the houses, originally made only for pedestrians with donkeys and even today, no cars are allowed to enter the city centre.
The capital city of Fira is a lively place with many hotels and accommodation facilities. You can take a walk on a promenade with many shops, restaurants, bars and music clubs. We recommend to visit the museums, preserving many artefacts from the Minoan, Hellenic or Byzantine period (Prehistoric Thera Museum, Archaeological Museum of Thera) and also the two nice cathedrals, one catholic (Agios Ioannis Baptistis) and one orthodox (Metropolis). However, it is not an ideal place for bathing in the sea. For this purpose, it is better to go to a beach as Monolithos or to the remote resorts of Kamari or Perissa.
More touristic destinations of Santorini
Close resorts: Firostefani, Imerovigli, Karterados, Vourvoulos
Most favourite resorts of Santorini: Akrotiri, Imerovigli, Kamari, Megalochori, Fira, Oia (Ia), Perissa
Resorts, beaches, sights or trips - clearly listed on the map of Santorini.
Did you visit this place and do you have some additional informations, interessting observation or photos?