Mesa Gonia - island Santorini
Episkopi Gonia, Exo Gonia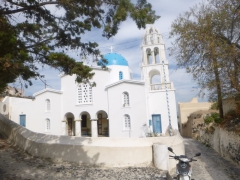 Mesa Gonia is situated at the foot of the mountains, in the central part of the interior of the Greek island of Santorini. It is located about 7 km southeast of the capital Fira.
Santorini, Mesa Gonia on the map

Mesa Gonia is a picturesque village with beautiful churches and traditional tavernas, much quieter than the nearby resort of Kamari. In the past it was especially famous for its excellent wine production. After the great earthquake of 1956, many of the inhabitants moved to Kamari, but the wine-making tradition has been preserved. At the beginning of the village you will see one of the oldest wineries of the island "Roussos Winery" (its history dates back to the 1930s) and you can also visit, for example, the winery "Kanava Rousos".
In the village stands the famous Byzantine church of Panagia Episkopi or also Episkopi Gonia. It dates back to the end of the 11th century and is one of the important monuments of Santorini of this period. It has survived earthquakes and can be admired not only from the outside but also from the inside. It is decorated with several interesting frescoes and icons from the 11th to 12th centuries. The church has become such an important symbol of the place that the village itself is sometimes called "Episkopi Gonia". From the church there is a magnificent view of the east coast of the island.
The village lies hidden in the interior of the island. Follow the main road from Kamari until you come to a right turn onto Mesa Gonia. Near the village is another village called Exo Gonia.
More touristic destinations of Santorini
Close resorts: Kamari, Messaria, Pyrgos, Vothonas
Most favourite resorts of Santorini: Akrotiri, Imerovigli, Kamari, Megalochori, Fira, Oia (Ia), Perissa
Resorts, beaches, sights or trips - clearly listed on the map of Santorini.
Did you visit this place and do you have some additional informations, interessting observation or photos?