Kamari - Santorini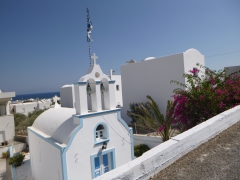 Kamari Resort, named after the small city of Kamari, lies on the east coast of Santorini, approximately 9 km from the capital city of Fira. The small city is very young, as it was established in 1956 by the inhabitants of Mesa Gonia, a city damaged by the massive earthquake.
Santorini, Kamari on the map

The city of Kamari got its name after the remains of the ancient Roman arches, which are located close to the beach (kamar - arch). According to historical documents, Kamari served as a port of Ancient Thera in the past. Today, just a few hundred people are living here, but during the summer season, the site changes to one of the most visited places on the island.
On the 2 km long beach, made of black volcanic sand and pebbles, we can enjoy a pleasant relaxation on a sunbed. However, if you are rather a fan of active rest, you can try any of the water sport activities or take part in a boat trip and visit some other beaches and resorts. Along the beach, there are restaurants and taverns, offering many delicious foods and also bars and music clubs, promising a lively atmosphere during the evenings.
Trip lovers have many possibilities to hire a car or motorcycle for visiting the interesting surrounding localities. There are also bus lines going regularly to many resorts. Many places are worth a visit, such as the Mesa Vouno mountains with the church of Panagia Katefiani, built between the years 1537 and 1650, which was used by the local people as a place to hide and to protect themselves from the pirate attacks. We also recommend to explore the ruins of Ancient Thera, located on the mountain as well, about 3 km from the resort. The site offers the visitors an unique experience, because several remains of the walls are well preserved. Not very far from here, you can see the highest mountain of Santorini, namely Profitis Ilias (Prophet Elijah, 567 m above the sea level), with an orthodox monastery of the same name, established in the 18th century, on top of it. The monastery museum protects many religious items of great value. Very nice can be also a trip to the close church of Zoodochou Pigis (translated as "life-giving spring"), built high above the resort next to a cave with a natural spring, that is perfect for a refreshment after the steep up walk. Once you are here, sit down for a while and enjoy the calmness of this place together with a stunning view over Kamari.
More touristic destinations of Santorini
Close resorts: Agia Paraskevi, Mesa Gonia, Perissa
Most favourite resorts of Santorini: Akrotiri, Imerovigli, Kamari, Megalochori, Fira, Oia (Ia), Perissa
Resorts, beaches, sights or trips - clearly listed on the map of Santorini.
Did you visit this place and do you have some additional informations, interessting observation or photos?