Imerovigli - Santorini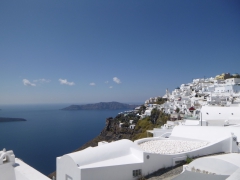 Imerovigli Resort is located in the western part of the island, approximately 3 km from the capital city of Fira. Its uniqueness lies in the location, as it is built up 330 metres above the sea level. In the past, Imerovigli was the residence of the aristocratic families.
Santorini, Imerovigli on the map

The houses are dug into the rocks, similarly like in most cities built up in the Cycladic style. You will surely be amazed by the view over the sea, which is really stunning from this height above the sea. Close to the caldera, there are several hotels and restaurants, which can be found together with many shops, taverns and bars also in the city centre, where the lovers of music and partying will enjoy the local lively nightlife.
You can visit the small church of Panagia Malteza, named after an icon of Virgin Mary, that was found by a sailor in the sea near Malta. Near the city, actually in front of it, the remains of the former Venetian fortress of Skaros is situated. It was built in 1207 by the Venetian duke Marco Sanudo to protect the area from the pirate attacks. This function the fortress was fulfilling until the 18th century. Another famous place is the Anastasios Church, standing on a hill above the city. It is liked especially by couples in love, who are choosing the church for their weddings.
However, Imerovigli has not the best access to the sea. For this purpose, it is better to go to Monolithos, Perissa or Kamari.
More touristic destinations of Santorini
Close resorts: Firostefani, Fira, Vourvoulos
Most favourite resorts of Santorini: Akrotiri, Imerovigli, Kamari, Megalochori, Fira, Oia (Ia), Perissa
Resorts, beaches, sights or trips - clearly listed on the map of Santorini.
Did you visit this place and do you have some additional informations, interessting observation or photos?