Karterados - island Santorini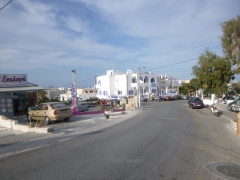 The resort of Karterados is a picturesque village of the same name, located in the central part of the inland part of the Greek island of Santorini. It is located in the beautiful surroundings of the surrounding vineyards, in close proximity to the main town of Fira (about 2 km east).
Santorini, Karterados on the map

The settlement of Karterados dates back to the 17th century, and it became a famous and prosperous town in the 19th century, when several estates and "captain's" houses were built here. Today, Karterados is a quiet village with interesting architecture. As you walk along the picturesque cobbled roads, you will gradually discover traditional old houses built and carved directly into the rocks. There are several beautiful churches, such as the Church of the Ascension or the Church of Agios Nikolaos. You can also enjoy stunning views of the long green valley with vineyards and the east coast of the island.
There is a beautiful windmill in the main square of the town and a memorial plaque for the victims of the Second World War. Karterados provides basic tourist services, the village has several restaurants, cafes, shops and a traditional bakery where you can taste homemade bread or delicious biscuits. Accommodation is available in residential apartments and larger hotels with private pools. You can also visit the local tennis club.
From the resort, take the road eastwards to reach the beaches of Karterados and Exo Gialos, which are covered in a mixture of dark volcanic pebbles and sand and have blue, crystal-clear seas. The rock formations with their unique patterns created by the long term action of wind, sea water and sand are certainly worthy of admiration.
More touristic destinations of Santorini
Close resorts: Messaria, Město Fira, Vothonas
Most favourite resorts of Santorini: Akrotiri, Imerovigli, Kamari, Megalochori, Fira, Oia (Ia), Perissa
Resorts, beaches, sights or trips - clearly listed on the map of Santorini.
Did you visit this place and do you have some additional informations, interessting observation or photos?