Exomitis - island Santorini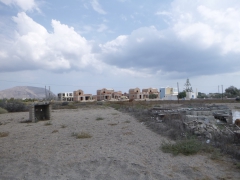 The small and quiet resort of Exomitis is located in the southernmost part of the Greek island of Santorini, at Cape Exomitis. Its distance from the main town of Fira is about 12 km.
Santorini, Exomitis on the map

The resort consists of the village of Exomitis, also known in former times as "Exemiti". It is adjacent to the resorts of Vlichada and Agios Georgios and is located close to the larger and very popular tourist resort of Perissa.
The resort is adjacent to the pleasant Exomitis beach of the same name, which covers the entire southern tip of Santorini. The beach is long, in some parts very well organised with sunbeds and umbrellas available for hire, in other places it is quieter and more isolated.
If you take the road from Perissa towards Exomitis, you will see ancient graves in the rocks on your right. One of the graves has giant vipers carved on the birthstone. The nearby archaeological site of Akrotiri, which has earned the name "Greek Pompeii", is certainly worth a visit. The Akrotiri Lighthouse overlooks the south-western tip of the island.
More touristic destinations of Santorini
Close resorts: Agios Georgios, Perivolos, Vlichada
Most favourite resorts of Santorini: Akrotiri, Imerovigli, Kamari, Megalochori, Fira, Oia (Ia), Perissa
Resorts, beaches, sights or trips - clearly listed on the map of Santorini.
Did you visit this place and do you have some additional informations, interessting observation or photos?