Emporio - island Santorini
Emporeio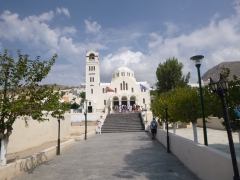 The resort of Emporio and the village of the same name are located in the southern part of the interior of the Greek island of Santorini, about 10 km south of the capital Fira. It lies in a beautiful setting, at the foot of the Profitis Ilias (Prophet Elijah) mountain range.
Santorini, Emporio on the map

The village was an important commercial centre in the past, as its name suggests. The Greek word "emporio" means "trade". Nowadays it is a quieter town with beautiful houses and streets. For safety reasons, the houses were built very close together and on a slope, so the streets between them are really narrow and winding. Many of these houses have been nicely repaired by the locals.
There are several shops, restaurants, bars and traditional tavernas with tasty Greek food and excellent wines. There are luxury hotels and apartments as well as smaller houses and rooms for rent.
The Emporio area is certainly an interesting place to visit, as you will find many historical monuments and several beautiful churches or chapels with typical blue roofs. For example, the large church of Saint Nicholas Marmaritis built of marble. Kasteli Castle, one of the medieval fortified castles on Santorini, is also a big attraction. Nearby, in Goulas Square, stands the Nimborio Tower, which served as a watchtower. The village of Emporio lies near the hill of Gavrilos with the remains of several windmills.
Emporion is strategically located inland between popular tourist resorts and beautiful beaches. Nearby you will find, for example, the resort of Perissa with a very unique beach dominated by the rocky outcrop of Mesa Vouno. We can also recommend one of the most beautiful beaches on the island, Vlychada, or the more lively Perivolos beach.
More touristic destinations of Santorini
Close resorts: Agios Georgios, Perissa, Perivolos
Most favourite resorts of Santorini: Akrotiri, Imerovigli, Kamari, Megalochori, Fira, Oia (Ia), Perissa
Resorts, beaches, sights or trips - clearly listed on the map of Santorini.
Did you visit this place and do you have some additional informations, interessting observation or photos?