Athinios - island Santorini
Órmos Athiniós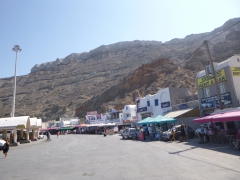 Athinios is not a classic tourist resort, it is mainly the main port of Santorini, where not only ferries from Athens arrive, but also provides Santorini with connections to other Greek islands. The port of Athinios and the adjacent town of the same name are located in the western part of the Greek island of Santorini, about 8 km south of the capital city of Fira.
Santorini, Athinios on the map

Cruise and fishing boats dock in the smaller port of the capital, Fira, but large ferries head for Athinios. It is also the only port on the island from which you can take passenger ferry services to the other Greek islands of Piraeus, the Cyclades and Crete. The port of Athinios is surrounded by impressive, very steep volcanic cliffs that play with different shades of colours. Down by the sea you will find only the port authority buildings. A long road runs along the cliffs, from the harbour to the top. Land connections to the capital and other resorts are provided by bus services or you can also take a taxi.
The town of Athinios is high on the cliffs and can be reached either by cable car or on foot. It is a typical Greek town with white houses and beautiful churches with blue roofs. There are several accommodations, restaurants and shops available to tourists in the resort. You can also use the services of the nearby resort of Megalochori.
More touristic destinations of Santorini
Close resorts: Megalochori, Pyrgos, Vothonas
Most favourite resorts of Santorini: Akrotiri, Imerovigli, Kamari, Megalochori, Fira, Oia (Ia), Perissa
Resorts, beaches, sights or trips - clearly listed on the map of Santorini.
Did you visit this place and do you have some additional informations, interessting observation or photos?