Ammoudi - island of Santorini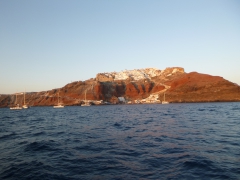 The resort of Ammoudi consists of a village of the same name with a marina located in the northwestern tip of the Greek island of Santorini, about 15 km northwest of the capital city of Fira.
Santorini, Ammoudi on the map

The resort of Ammoudi is located among volcanic cliffs in the very northwest of Santorini. It lies on the Aegean coast and is separated from the nearby island of Therasia only by the azure Ammoudi Bay. The history of Ammoudi dates back to the Venetian Republic and the first references to it date back to the early 13th century. In 1956, the whole area was affected by a devastating earthquake, but has since been reconstructed back to its original form.
Ammoudi Beach is accessible from the top of the town of Oia. You can either walk down just over 200 steps or hire a donkey or mule. The beach, or better the coastline, is rather rocky. But however, there are interesting spits where you can lie down and swim in the crystal clear water. You will be rewarded for your efforts with a beautiful view of the caldera and an amazing view of the rock massif above you.
The port of Ammoudi is part of a fantastic cluster of the pithy white houses of Oia, the most characteristic landmark of the picturesque island of Santorini. The town of Oia is famous for its fantastic views of the setting sun, excellent shopping opportunities and interesting places that are perfect for your walking tours. The liveliest part of the town is undoubtedly the main street. However, towards the end of the day, when life in Oia slows down and the tourist-induced bustle dies down, you can see the true face of the city. It's best enjoyed by strolling through the winding streets or in the cafes at the foot of the caldera, where you'll enjoy the spectacular sunsets and the unique Santorini atmosphere that makes the island so popular with tourists.
More touristic destinations of Santorini
Close resorts: Finikia, Oia (Ia)
Most favourite resorts of Santorini: Akrotiri, Imerovigli, Kamari, Megalochori, Fira, Oia (Ia), Perissa
Resorts, beaches, sights or trips - clearly listed on the map of Santorini.
Did you visit this place and do you have some additional informations, interessting observation or photos?