Finikia - island Santorini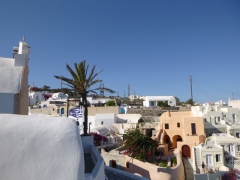 The village of Finikia is located in the northern part of the Greek island of Santorini, about 10 km northwest of the capital Fira. The famous and popular town of Oia is located near the resort.
Santorini, Finikia on the map

Finikia is a quiet little village where you can find traditional churches in the so-called Cycladic style and some of the cave houses carved into the rocks. In Santorini, these houses are designed to insulate their inhabitants from the heat or cold. If you have the chance to enter them during the summer, you will discover how nice and cool the temperature is inside the house. The village used to be mainly an agricultural settlement, where the farmers were mainly engaged in vineyards in the north and east of the area.
Finikia is one of the best preserved villages in Santorini. At the beginning of the village you will be greeted by a large and impressive stone wall made of dark volcanic stones. The vineyards, dotted with several chapels, are a beautiful sight. The small church of Kyra Panagia (Our Lady) is the ideal place to enjoy a breathtaking sunset in complete tranquillity. There is also the church of Saint Mother Maroulinani, in whose honour a procession is held every year on February 2. Another famous and beautiful church is the Church of Agia Matrona, which is built in the rock. Agia Matrona is venerated here, and every October the municipality holds a big festival.
The many local narrow streets hide a number of good tavernas and rooms for rent. The village has several hotels and apartments. If you are spending your holiday in the neighbouring popular village of Oia, Finikia can be a nice alternative to spend some of your nights here.
Near the resort, towards the north, you can take advantage of the beaches of Baxedes and Paradisi. On the west coast are the beaches of Koloumbo and Pori.
More touristic destinations of Santorini
Close resorts: Ammoudi, Oia (Ia), Paradisi
Most favourite resorts of Santorini: Akrotiri, Imerovigli, Kamari, Megalochori, Fira, Oia (Ia), Perissa
Resorts, beaches, sights or trips - clearly listed on the map of Santorini.
Did you visit this place and do you have some additional informations, interessting observation or photos?