Black Beach - Santorini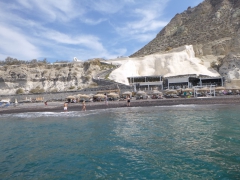 The small and nice Black Beach is located on the southern coast of the Greek island of Santorini, approximately 14 km southwest from the capital city of Fira. Its dark pebbles stand in a beautiful contrast to the surrounding white rocks.
Santorini, Black Beach on the map

The surface of Black Beach is largely made of dark sand and pebbles, sometimes you also can see even bigger stones. Their grey or black colour gave the name to the whole beach, which is therefore called the "Black Beach", but as the dark coloured beaches are nothing extraordinary on Santorini, we can find at least one more Black Beach on the island. Also, Perissa, one of the most beautiful and fully equipped beaches of Santorini, is sometimes called as "Black Beach".
There are high white rocks surrounding the dark-sand beach, creating a nice contrast between them. An interesting thing you can see here, are the so called "Syrmata", which are houses dug into the rocks. The Black Beach belongs to the partly organized beaches, with comfortable sunbeds, straw umbrellas and a pleasant restaurant available for the tourists. Sometimes, the place is also chosen by couples in love for their wedding ceremonies.
Black Beach lies out of the main street, thereby it is hidden from the everyday tourist hustle and bustle. It stretches in the south of the island, west of the favourite White and Red Beach and close to the small beach of Mesa Pigadia. The visitors often come by boats here and there are also regular boat connections, for example from the port of Akrotiri. In the close surroundings of the beach you can admire interesting sights, namely the archaeological site and lighthouse of Akrotiri.
More touristic destinations of Santorini
Close beaches: Kambia, Mesa Pigadia, White Beach
Most favourite beaches of Santorini: Kamari, Monolithos, Perissa, Perivolos, Red Beach, Vlychada
Resorts, beaches, sights or trips - clearly listed on the map of Santorini.
Did you visit this place and do you have some additional informations, interessting observation or photos?