Baxedes beach - Santorini island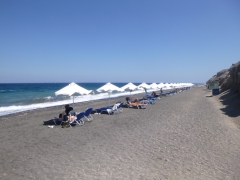 Tich├í, ale n─Ťkdy dost v─Ťtrn├í p├şse─Źn├í pl├í┼ż Baxedes le┼ż├ş na severn├şm pob┼Öe┼ż├ş ┼Öeck├ęho ostrova Santorini. Jej├ş vzd├ílenost je cca 11 km severoz├ípadn─Ť od hlavn├şho m─Ťsta Fira.
The quiet but sometimes quite windy sandy beach of Baxedes is located on the northern coast of the Greek island of Santorini. Its distance is about 11 km northwest of the capital Fira.
Santorini, Baxedes on the map

Baxedes Beach is located on the north-western tip of the island, just 3 km from the famous Santorini resort of Oia. Baxedes is a rather quiet and isolated beach and is located in the area of the beautiful neighbouring beaches of Cape Coloumbo and Paradise. The beach is easily accessible by motorbike and car.
The name of the beach is derived from the Turkish word "Baxes", meaning "garden". The inhabitants of the town of Oia in this flat area grew fruits and vegetables that did not need much watering (such as tomatoes, cucumbers, peas, eggplants, carrots, courgettes or melons). It is said that because the local fruit and vegetables receive less watering, they are more pronounced and sweeter in flavour.
Baxedes beach is covered with dark volcanic sand and surrounded by high rocks, which also provide visitors with the desired shade. The beach is rather narrow and unorganised. However, refreshments are provided by a stall right on the beach or by tavernas in the vicinity. The beach is popular with families with children due to its gradual entry into the water and the fine sand that covers both the beach and the seabed. On the other hand, we must warn visitors about the summer northerly winds, known as "melt". These winds are really strong and create big waves in the sea.
More touristic destinations of Santorini
Close beaches: Cape Columbo, Katharos, Paradisi
Most favourite beaches of Santorini: Kamari, Monolithos, Perissa, Perivolos, Red Beach, Vlychada
Resorts, beaches, sights or trips - clearly listed on the map of Santorini.
Did you visit this place and do you have some additional informations, interessting observation or photos?