Ammoudi Beach - Santorini Island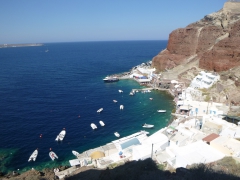 The rocky beach of Ammoudi lies on the northwestern tip of the Greek island of Santorini, close to the beautiful town of Oia. Its distance is about 12 km northwest from the capital city of Fira.
Santorini, Ammoudi on the map

Ammoudi is a nice bay with a small fishing harbour, located just below the town of Oia. It has gained fame mainly due to its breathtaking sunset view and it is often full of tourists. From the town of Oia you can either walk down to the beach by climbing more than 200 steps, or donkeys can help you overcome the height difference. The harbour can also be reached by car.
However, Ammoudi is not a beach in the true sense of the word. You won't find any pebble shore, umbrellas or sunbeds here. Just rocks everywhere. On the other hand, this is what makes swimming in the crystal clear water so unique and why the place is a paradise for sports divers. You can relax on one of the rocky outcrops that rise out of the sea, while enjoying the view over the town of Oia and the ever-present steep red rocks.
Along the coast, there are several tavernas serving tasty Greek food, often made out of fresh fish catches from the local fishermen and there are also boats leaving from the harbour to the neighbouring island of Therasia, so you can take a nice trip from there.
More touristic destinations of Santorini
Close beaches: Armeni, Katharos
Most favourite beaches of Santorini: Kamari, Monolithos, Perissa, Perivolos, Red Beach, Vlychada
Resorts, beaches, sights or trips - clearly listed on the map of Santorini.
Did you visit this place and do you have some additional informations, interessting observation or photos?