Almyra Beach - Santorini Island
Almira Beach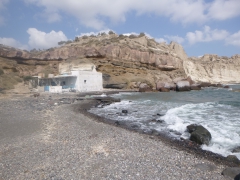 The small and isolated pebble beach of Almyra is located on the southern coast of the Greek island of Santorini, about 10 km south from the capital city of Fira.
Santorini, Almyra on the map

Almyra beach falls under the Akrotiri Region and is located near the important archaeological site of Akrotiri, where an advanced ancient town was discovered, that remained perfectly preserved to this day thanks to the volcanic dust and ash.
Almyra beach is quite hidden and isolated as it is not easily accessible. To get to it, you will have to descend to the coast along a dirt road (leading from the village of Akrotiri). However, you will be rewarded with the peace and privacy, that you will find here. The beach is covered with small pebbles and washed by crystal clear water. Like at the famous neighbouring beach of Vlychada, also here you can observe the beautiful cliffs carved by the sea, wind and rain.
The beach is not organized and has no tourist facilities. The only thing you will find here is a beautiful fisherman's tavern built right by the sea. If you visit Almyra Beach, make sure you go to the "Captain Marco's Tavern" because the chef prepares food from fresh fish catches and vegetables and serves his own wine.
More touristic destinations of Santorini
Close beaches: Akrotiri, Eros, Red Beach, Vlychada
Most favourite beaches of Santorini: Kamari, Monolithos, Perissa, Perivolos, Red Beach, Vlychada
Resorts, beaches, sights or trips - clearly listed on the map of Santorini.
Did you visit this place and do you have some additional informations, interessting observation or photos?