Psinthos - Rhodes Island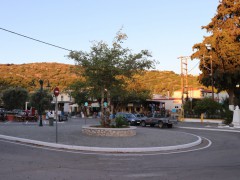 The traditional Greek village of Psinthos is located in the northern part of the interior of the Greek island of Rhodes, about 23 km southwest of the capital city.
Rhodos, Psinthos on the map

Psinthos is a picturesque village situated at an altitude of about 350 m above sea level, surrounded by mountains and lush nature. The village has about one thousand inhabitants and most of them work in agriculture. It is especially renowned for the high quality honey produced by local producers.
The centre of the village is a small square with taverns, a few shops and a church dedicated to the Virgin Mary. The old plane trees in particular give the place a pleasant atmosphere. Psinthos is a very quiet place, but it comes alive every year on 8 September, when religious festivities are held, accompanied by good food, music and dancing.
The village of Psinthos is also known for its food, as the local taverns are purely Greek, offering typical Greek cuisine and with an emphasis on grilled meat. On weekends, residents from the capital city of Rhodes, which is about 23 km away, also flock here. However, not many tourists come here, most of them only pass through the village when they head to the nearby Petaloudes Nature Reserve (the so-called Valley of the Butterflies). From the popular tourist resort of Faliraki it is only about 14 km to the village of Psinthos.
More touristic destinations of Rhodes
Most favourite resorts of Rhodes: Afandou, Archangelos, Faliraki, Ialyssos, Ixia, Kalithea, Kiotari, Kolymbia, Koskinou (Reni Koskinou), Lardos, Lindos, Rhodes (city)
Resorts, beaches, sights or trips - clearly listed on the map of Rhodes.
Did you visit this place and do you have some additional informations, interessting observation or photos?