Profilia - Rhodes Island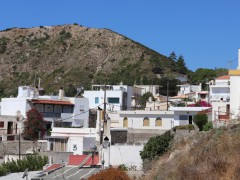 The picturesque inland village of Profilia is located in the southern part of the Greek island of Rhodes, about 77 km southwest of the capital city. It is situated on the slopes of the local mountains.
Rhodos, Profilia on the map

The beauties and attractions of the village of Profilia
The small village of Profilia lies in the interior of Rhodes, on the slopes of Mount Gerakas. It is made up of traditional white houses and the locals are mainly engaged in agriculture, which is quite successful here, as in the vicinity of the village we can see a large number of olive groves and fields with vegetables, especially tomatoes.
Profilia is a very peaceful village whose narrow streets lead us to the square with a beautiful Orthodox church dedicated to the Nativity of the Virgin Mary. The village also has a nice chapel dedicated to the Archangel Michael and Saint George, which dates back to the 16th century. If you are staying in the area at the end of August, go to Profilia on the evening of 28 August, when the festival of St. John Prodromos takes place (the feast is celebrated on 29 August, but the festival takes place the evening before).
Profilia is located in an area that is hardly affected by tourism and consists of other similar villages such as Istrios, Laerma, Vati and Apolakkia. The surrounding area of the village is especially beautiful for the local nature, as the country roads lead through pine forests with rich fauna and flora and the Dama-Dama deer also lives here. The area is protected under the European Natura 2000 network.
Profiles and tips for trips in the vicinity
Towards the village of Laerma, Moni Thari Monastery stands in a beautiful landscape, surrounded by wild nature. The monastery dedicated to the archangel Michael dates back to the 12th century, but is still very well preserved and inhabited by monks. The monastery can be reached either by road (about 11 km) or by a marked hiking trail that leads through the local forests.
To the east of Profilia are the ruins of the medieval castle of Asklipio and towards the west coast of the island, the ruins of another Johannite castle of Monolithos rise on a high cliff. For a more touristy environment, you have to go to the east coast of the island, where you can find, for example, the resort of Kiotari or the famous tourist resort of Lindos, where the original ancient village of Lindos (now a UNESCO World Heritage Site) has been preserved.
More touristic destinations of Rhodes
Close resorts: Apolakkia, Arnitha, Istrios, Vati
Most favourite resorts of Rhodes: Afandou, Archangelos, Faliraki, Ialyssos, Ixia, Kalithea, Kiotari, Kolymbia, Koskinou (Reni Koskinou), Lardos, Lindos, Rhodes (city)
Resorts, beaches, sights or trips - clearly listed on the map of Rhodes.
Did you visit this place and do you have some additional informations, interessting observation or photos?