Kiotari - Rhodes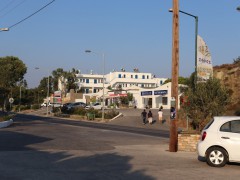 The medium-sized seaside resort of Kiotari is located on the southeast coast of the Greek island of Rhodes, about 60 km from the capital city. It is a long strip of modern hotel complexes and adjacent beaches.
Rhodos, Kiotari on the map

Characteristics of Kiotari
The tourist resort got its name thanks to the tiny village of Kiotari, which is located in this area. However, in fact, the resort was created artificially on the southeast coast of the island, by the gradual development of modern and luxurious hotel resorts, which currently reaches a length of about 4 km.
Visitors to Kiotari can thus enjoy a diverse and rich range of tourist services including restaurants, bars, shops, pharmacy, swimming pools and hotel beaches. Hotel guests can also enjoy a variety of sports and cultural events, for children such as animation clubs and playgrounds.
Kiotari Beach
The resort also includes the eponymous sandy and pebbly Kiotari Beach, which has a slightly reddish colour. However, most of its length is taken up by smaller private beaches, as large hotel resorts often have their own hotel beach.
The coastline of Kiotari is thus dotted with small and well-equipped beaches, interspersed with unorganised and free stretches of coastline where you can come at any time and spread out your towel without having to be a hotel guest.
Surroundings of Kiotari and tips for trips
Unfortunately, there is not much to see in close proximity to the resorts and individual hotels and the nature is a bit wilder here than in the northern half of Rhodes. If you want to go on a trip, you'll have to take a bus (there is a bus stop in the resort) or even better a rental car.
Heading inland (about 4 km) is the really beautiful mountain village of Asklipio, which can offer you what the resort of Kiotari lacks - a true Greek atmosphere, a walk among the houses with gardens with olive and lemon trees or a visit to historical sites. In particular, we recommend going to see the Church of the Assumption of Virgin Mary and then hiking up to the ruins of the Johannite castle of Asklipio.
Less than 20 km to the north, the beautiful ancient town of Lindos rises on the tip of the island and is a must-see during your stay in Kiotari. Lindos is a world-famous archaeological site and a UNESCO World Heritage Site. The Acropolis of Lindos is also part of the town and nearby are the beautiful beaches of Lindos (Megali Paralia), the smaller Pallas and above all the wonderfully romantic St. Paul's Bay.
For whom is Kiotari suitable
Kiotari resort is suitable for tourists who want to relax on their holiday and enjoy all-inclusive services of modern hotels including hotel restaurants, swimming pools and hotel beaches. Such visitors are sure to be satisfied here. Hotels also routinely offer entertainment for children and a range of water sports on the beach.
However, if you like walking around and exploring the surrounding countryside, you would be disappointed here. The original Greek buildings are absent here (although you may spot a small Greek house here and there among the hotels) and the surrounding countryside is rather desolate.
But if you want to use the resort as a base for exploring the beauty of the southern part of Rhodes, that's certainly possible. The road connecting Kalathos to the south of the island runs along the entire length of Kiotari, so it's no problem to take an occasional excursion around the area.
More touristic destinations of Rhodes
Close resorts: Asklipio, Gennadi, Vati
Most favourite resorts of Rhodes: Afandou, Archangelos, Faliraki, Ialyssos, Ixia, Kalithea, Kiotari, Kolymbia, Koskinou (Reni Koskinou), Lardos, Lindos, Rhodes (city)
Resorts, beaches, sights or trips - clearly listed on the map of Rhodes.
Did you visit this place and do you have some additional informations, interessting observation or photos?