Traganou Beach - Rhodes Island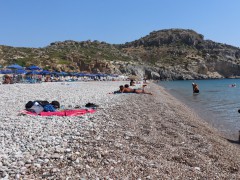 The quiet pebble beach of Traganou is located in the northeastern part of the Greek island of Rhodes, about 20 km south of the capital city. Thanks to the clear sea and the surrounding caves, the place is especially popular for diving and snorkelling.
Rhodos, Traganou on the map

Traganou Beach is flat, spacious and covered with pebbles of various sizes that continue along the seabed. The sea in this area is really wonderfully clear and rich in underwater life. The beach has also been awarded the EU Blue Flag.
At the northern end of the beach there is a beautiful cave which is a popular destination for diving and snorkelling enthusiasts. In addition to the colourful fish, small octopuses are often seen here and the sun's rays penetrating through the cave's openings are a particularly unique spectacle in the sea water.
Traganou is a partly organised beach, with sun loungers and umbrellas available for hire or a tasty fish tavern and snack stall. However, most of the beach is left purely natural, so it's no problem to find a quiet spot here.
Traganou Beach is loosely connected to Afandou Beach, which is long, sandy and one of the most popular beaches on Rhodes. About 4 km to the north, another popular tourist beach of Faliraki is located. Traganou Beach is very quiet, so it's not surprising that it's mainly locals who head here.
Traganou Beach is usually associated with the tourist resort of Afandou. Particularly well-known are the Afandou caves where various boat trips, including swimming and diving, are offered.
More touristic destinations of Rhodes
Close beaches: Afandou beach, Anthony Quinn (Vagies) beach, Ladikou beach
Most favourite beaches of Rhodes: Afandou beach, Agathi beach (Agia Agatha), Agios Pavlos beach (Lindos - Saint Paul Bay), Anthony Quinn beach (Vagies), Elli beach (Rhodes Town), Faliraki beach, Megali Paralia beach (Lindos), Prasonisi beach, Tsambika beach
Resorts, beaches, sights or trips - clearly listed on the map of Rhodes.
Did you visit this place and do you have some additional informations, interessting observation or photos?