Theologos Beach - Rhodes Island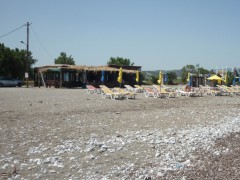 The long, sandy and pebbly beach of Theologos is located in the northwestern part of the Greek island of Rhodes, about 20 km southwest of the capital city. The beach is especially famous among kite-surfers.
Rhodos, Theologos on the map

Theologos Beach stretches along the eponymous tourist resort of Theologos (Tholos) and reaches a total length of about 3 km. The beach is really spacious and also due to the quiet nature of the resort itself, the beach is peaceful and less busy.
Theologos Beach is partly organised and partly left purely natural. A sort of focal point of the beach is the area around the local surf school (Surfingbird Kite & Windsurf Center), where those interested can rent the necessary wind-surfing and kite-surfing equipment and can also take a training course. Near the school there are several beach taverns and snack-bars, sunbeds with umbrellas and sanitary facilities.
Other organised parts of the beach can then be found at individual hotels, which provide their own sunbeds and umbrellas for their clients.
Theologos Beach is covered with a mixture of sand and pebbles, with the sand predominating in the "resting zone" of sunbeds and umbrellas, while at the entrance to the water and then a few metres along the seabed it is almost exclusively consisting of pebbles. However, the sea in this area is beautifully clear and thus invites not only for water sports but also for swimming. However, it is true that Theologos Beach is particularly popular with wind-surfers and kite-surfers because of the ideal conditions, especially the strong winds, big waves and open sea. On days when the sea is calmer, those interested can try other water activities such as water skiing, banana boat rides or the so-called super sofa.
Thanks to its length, the crystal clear water and the surrounding greenery, Theologos Beach creates a beautiful and peaceful environment. However, we wouldn't recommend this beach for families with small children, mainly because of the aforementioned large waves and pebbles at the entrance to the sea, but also because the seabed drops off sharply after a few metres.
From the beach, the chimney of the Soroni oil power plant can be seen in the distance.
More touristic destinations of Rhodes
Close beaches: Paradisi (Paradeisi) beach, Soroni beach
Most favourite beaches of Rhodes: Afandou beach, Agathi beach (Agia Agatha), Agios Pavlos beach (Lindos - Saint Paul Bay), Anthony Quinn beach (Vagies), Elli beach (Rhodes Town), Faliraki beach, Megali Paralia beach (Lindos), Prasonisi beach, Tsambika beach
Resorts, beaches, sights or trips - clearly listed on the map of Rhodes.
Did you visit this place and do you have some additional informations, interessting observation or photos?