Pefki Beach - Rhodes Island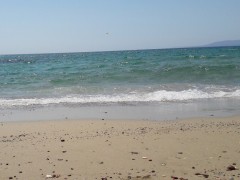 The peaceful, sandy beach of Pefki lies at the southeast coast of the Greek island of Rhodes, about 52 km south of the capital city. The beach is organised and has also been awarded the Blue Flag.
Rhodos, Pefki on the map

The main beach of Pefki
Pefki Beach forms part of the eponymous holiday resort of Pefki, which is located on a small peninsula jutting out into the waters of the Mediterranean Sea, just 5 km south of the historically important town of Lindos.
Pefki is one of the medium-long beaches (about 700 m), however, it is quite narrow compared to other beaches. But you don't have to worry about not having a place to lie down. Similarly to the rest of Pefki Resort, the beach itself has a very relaxed and peaceful impression and is not crowded even in the main tourist season.
There are sunbeds and umbrellas available for rent, several tavernas, including those offering amazing fresh seafood delicacies, beach bars and a diving club.
The beauty of Pefki Beach is definitely enhanced by the fine, golden sand that covers it. The coastline slopes gently into the sea, which is especially appreciated by families with small children.
Side beaches of Pefki
Apart from the main Pefki Beach, you will come across also other smaller beaches in the resort. In general, the beaches in the resort are rather narrow due to the mountainous and rocky surrounding landscape, but very nice and quiet. Sometimes, even partially hidden behind a wall of greenery, which on the other hand is an advantage. Visitors seek these places mainly for peace and relaxation. Most of them are sandy to sandy-pebble and the crystal clear water attracts bathers. The beaches in Pefki provide guests with traditional services - sunbeds, umbrellas, taverns and various water sports.
More touristic destinations of Rhodes
Close beaches: Agios Pavlos (Lindos - Saint Paul Bay) beach, Lardos beach, Lothiarika beach, Makris Tichos beach
Most favourite beaches of Rhodes: Afandou beach, Agathi beach (Agia Agatha), Agios Pavlos beach (Lindos - Saint Paul Bay), Anthony Quinn beach (Vagies), Elli beach (Rhodes Town), Faliraki beach, Megali Paralia beach (Lindos), Prasonisi beach, Tsambika beach
Resorts, beaches, sights or trips - clearly listed on the map of Rhodes.
Did you visit this place and do you have some additional informations, interessting observation or photos?