Plimiri Beach - Rhodes Island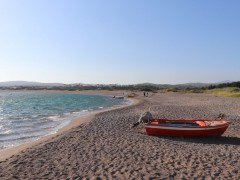 The quiet sand and shingle beach of Plimmiri is located in the southeastern part of the Greek island of Rhodes, about 78 km southwest of the capital city.
Rhodos, Plimiri on the map

The beach forms part of the seaside resort of the same name, Plimmiri, a tiny village with a few original Greek houses and small fields. On the surrounding vast wild meadows, a large and modern hotel complex was built a few years ago. Apart from the hotel complex, the area around Plimmiri is very quiet and almost deserted.
The beginning of the beach is marked by a long stone pier, where fishing boats and small tourist boats or jet skis are moored.
The surface of the beach is mainly a mixture of sand and pebbles, but you can find also some beautifully sandy areas. The only organised part of the beach belongs to the hotel complex, where sunbeds, umbrellas and water sports are available to clients, otherwise the beach is left natural. The hotel's beach is also well-organised and purely sandy.
There are also diving instructors heading to Plimiri Beach to take more experienced clients. On the seabed, not far from the shoreline and at a depth of up to 22 metres lies the old wreck of the cargo ship Giannoula K. The ship is said to have been wrecked here in 1981, but even today it is well preserved and perfect for diving activities.
Plimiri Beach is about 3 km long, which is just enough for the number of visitors. The beaches in this area are not overcrowded. Thanks to the crystal clear water and gradual entry into the sea, we can recommend the beach to families with children.
More touristic destinations of Rhodes
Close beaches: Agios Georgios (Agios Pavlos) beach, Lachania beach, Mavros Kavos beach, Salamina beach
Most favourite beaches of Rhodes: Afandou beach, Agathi beach (Agia Agatha), Agios Pavlos beach (Lindos - Saint Paul Bay), Anthony Quinn beach (Vagies), Elli beach (Rhodes Town), Faliraki beach, Megali Paralia beach (Lindos), Prasonisi beach, Tsambika beach
Resorts, beaches, sights or trips - clearly listed on the map of Rhodes.
Did you visit this place and do you have some additional informations, interessting observation or photos?