Paradisi Beach (Paradeisi) - Rhodes island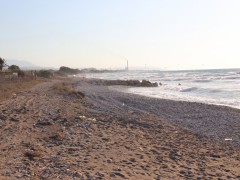 The long sand and shingle beach of Paradisi is located in the northwestern part of the Greek island of Rhodes, about 14 km southwest of the capital city.
Rhodos, Paradisi (Paradeisi) on the map

Paradisi beach forms part of the eponymous holiday resort of Paradisi (or Paradeisi), which is located in close proximity to Diagoras International Airport and only about 14 km from the capital city of Rhodes. This means that public buses from the capital city often come to the resort. However, for some people the noise from the nearby airport can be very disturbing, as in the main summer season there is really one plane after another landing and departing here.
Paradisi Beach is quite long and practically stretches from the resort of Theologos to the other neighbouring resort of Kremasti. But, much of the coastline is not very nice and is unmaintained. The surface of the beach is a mixture of sand, pebbles and other things such as twigs from the surrounding vegetation or seaweed. At the entrance to the sea, pebbles predominate.
But the big bonus of Paradisi Beach is that you can watch the beautiful sunsets from here, in peace and privacy.
However, some parts of the beach are organised and pleasantly landscaped and this applies to the individual hotel beaches. Here you will also find beach tavernas, sanitary facilities and sometimes an offer of adrenaline water sports.
More touristic destinations of Rhodes
Close beaches: Kremasti beach, Soroni beach, Theologos beach
Most favourite beaches of Rhodes: Afandou beach, Agathi beach (Agia Agatha), Agios Pavlos beach (Lindos - Saint Paul Bay), Anthony Quinn beach (Vagies), Elli beach (Rhodes Town), Faliraki beach, Megali Paralia beach (Lindos), Prasonisi beach, Tsambika beach
Resorts, beaches, sights or trips - clearly listed on the map of Rhodes.
Did you visit this place and do you have some additional informations, interessting observation or photos?