Nikolas Beach - Rhodes island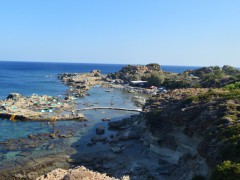 The smaller, mostly rocky Nikolas Beach is located in the northeastern part of the Greek island of Rhodes, about 9 km south of the capital city of Rhodes. Nikolas is a unique, very peaceful beach, ideal for relaxation and rest.
Rhodos, Nikolas on the map

Nikolas Beach is located on the rocky coastline at the northern tip of Rhodes, only about 4 km from the popular holiday resort of Koskinou and 9 km from the capital city of Rhodes. Kallithea Beach lies also nearby, famous for its healing thermal springs and where formerly the Kalithea Thermal Baths existed. So, although Nikolaos Beach is located in a touristy area of Rhodes, it is itself literally an oasis of calm.
Much of the surface of the beach is made up of rocky areas and large stones rising above sea level, but there is also a small area of fine sand, suitable for families with smaller children. The two parts are separated by a small lagoon, which is shallow, warm and seductive for children to play. But beware of its slippery bottom. Water shoes are therefore recommended. On the other hand, snorkelling and diving enthusiasts will be especially excited about the sea, as the water is crystal clear and rich in underwater life.
Nikolas is a beautiful beach, well equipped and not crowded. Sun loungers and umbrellas are installed both on the sandy part of the beach and directly on the rocks and there are also showers and toilets available for visitors. A unique feature of the beach is a restaurant, which has tables and chairs placed in the water. Even while eating and relaxing, you will be in close contact with the sea and if you put your feet in the water, you will be gently tickled by the small fish that live here in flocks.
The beach is very similar in type to the neighbouring beaches of Tasos and Oasis.
More touristic destinations of Rhodes
Close beaches: Faliraki beach, Kalithea beach, Kokkina beach, Oasis beach, Tasos beach
Most favourite beaches of Rhodes: Afandou beach, Agathi beach (Agia Agatha), Agios Pavlos beach (Lindos - Saint Paul Bay), Anthony Quinn beach (Vagies), Elli beach (Rhodes Town), Faliraki beach, Megali Paralia beach (Lindos), Prasonisi beach, Tsambika beach
Resorts, beaches, sights or trips - clearly listed on the map of Rhodes.
Did you visit this place and do you have some additional informations, interessting observation or photos?