Megali Paralia Beach (Lindos) - Rhodes island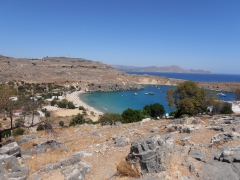 The spacious and organised sandy beach of Megali Paralia (Lindos) is located on the southeastern coast of the Greek island of Rhodes, about 50 km south of the capital city. It is the main beach of the tourist resort of Lindos.
Rhodos, Megali Paralia (Lindos) on the map

The popular tourist resort of Lindos has three beaches, which are Megali Paralia Beach (the main beach of Lindos, the largest and busiest), Pallas Beach (smaller and quieter, although in the main summer season it is also crowded) and St. Paul's Bay (Agios Pavlos, a bay protected by the surrounding cliffs, quiet and pleasant, but more distant from the other two). The long pebble beach of Vlicha, located between the resorts of Lindos and Kalathos, is also a popular beach for tourists from Lindos.
The beach of Megali Paralia is about 100 metres long and is situated in a sheltered bay with a beautiful view of the old village of Lindos and the acropolis with the remains of the Johanniter walls and the ancient temple. The beach is covered with fine, golden sand which, together with the azure sea, attracts many tourists.
Megali Paralia is an organised beach with sunbeds and umbrellas available for visitors to rent. There are also several tavernas and beach bars located in the pleasant shade of the trees and those interested can also choose from a selection of water sports.
Families with smaller children are often seen here, thanks to the calm sea and the gradual entry into the water. However, the beach tends to be quite full during the main tourist season.
More touristic destinations of Rhodes
Close beaches: Agios Pavlos (Lindos - Saint Paul Bay) beach, Kalathos beach, Vlicha beach
Most favourite beaches of Rhodes: Afandou beach, Agathi beach (Agia Agatha), Agios Pavlos beach (Lindos - Saint Paul Bay), Anthony Quinn beach (Vagies), Elli beach (Rhodes Town), Faliraki beach, Megali Paralia beach (Lindos), Prasonisi beach, Tsambika beach
Resorts, beaches, sights or trips - clearly listed on the map of Rhodes.
Did you visit this place and do you have some additional informations, interessting observation or photos?