Mavros Kavos Beach - Rhodes Island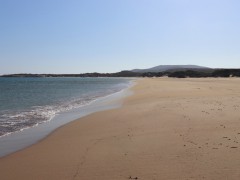 The isolated and quiet beach with beautifully fine sand, Mavros Kavos Beach is located in the southeastern part of the Greek island of Rhodes, about 84 km southwest of the capital city.
Rhodos, Mavros Kavos on the map

Mavros Kavos Beach is situated on the shore of a small bay in an undeveloped and touristy part of the southeastern coast of Rhodes. The surface of the beach is made up of beautifully soft and wet sand (pebbles, stones or twigs from the surrounding bushes can be found in the sand further away from the water), washed by the crystal clear sea. Mavros Kavos has also been awarded the EU Blue Flag for the cleanliness of the beach and sea. The beach is lined with sand dunes, wild cypress trees and the whole area looks like an oasis of peace.
It is therefore no surprise, that Mavros Kavos is also regularly ranked among the most romantic beaches on Rhodes, ideal for a day out for just two or for families who want to enjoy a day in peace and privacy. Families with children will also appreciate the gradual entry into the water. However, the beach is unorganised, with no tourist facilities, so be sure to pack food and plenty of liquids with you.
On the other hand, the reason why Mavros Kavos beach is very calm and still natural is that it is quite away from the main tourist resorts of the island and access to it is more difficult. If you want to go to the beach, go from the resort of Plimmiri to the village of Kattavia, but drive south along the coast. When you see the church of St. Paul, turn left. The road will take you down to the coast - if you go straight down to the coast you will reach Agios Georgios Beach (which is very similar in type, also unorganised, sandy and quiet), if you want to go to Mavros Kavos Beach, take a right at the fork. Mavros Kavos beach lies south of Agios Georgios beach.
The beach lies just a short distance from the very southern point of Rhodes, where the unique beach of Prasonisi, especially popular with surfers, is located. If you're staying in the area, we can recommend Prasonisi Beach as an unusual travel tip, as it's actually just a strip of quicksand. On the southern tip, there is only the lighthouse then. 
More touristic destinations of Rhodes
Close beaches: Agios Georgios (Agios Pavlos) beach, Plimiri beach
Most favourite beaches of Rhodes: Afandou beach, Agathi beach (Agia Agatha), Agios Pavlos beach (Lindos - Saint Paul Bay), Anthony Quinn beach (Vagies), Elli beach (Rhodes Town), Faliraki beach, Megali Paralia beach (Lindos), Prasonisi beach, Tsambika beach
Resorts, beaches, sights or trips - clearly listed on the map of Rhodes.
Did you visit this place and do you have some additional informations, interessting observation or photos?