Massari Beach (Masari) - Rhodes Island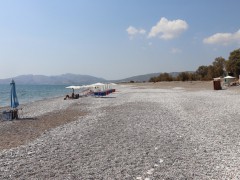 The very quiet to secluded pebble beach of Massari is located in the eastern part of the Greek island of Rhodes, about 42 km south of the capital city. For the most part, the beach remains natural.
Rhodos, Massari on the map

Massari (or Masari) Beach is adjacent to the eponymous village of Massari, which is famous for its citrus fruits production. The village of Massari has its own peaceful life, which has not been affected by the busy tourist traffic so far. However, even here visitors can rely on the basic tourist facilities in the form of several apartments, taverns and shops.
The pebble beach of Massari thus corresponds perfectly with the character of the adjacent village - it is very quiet, mainly visited by locals only, with few sunbeds and umbrellas, otherwise it is largely unorganised and left purely natural. But the swimming is wonderful here and the water beautifully clear.
Just a short distance away to the north is the popular long and sandy Haraki (Charaki) Beach.
More touristic destinations of Rhodes
Close beaches: Agathi (Agia Agatha) beach, Haraki (Charaki) beach
Most favourite beaches of Rhodes: Afandou beach, Agathi beach (Agia Agatha), Agios Pavlos beach (Lindos - Saint Paul Bay), Anthony Quinn beach (Vagies), Elli beach (Rhodes Town), Faliraki beach, Megali Paralia beach (Lindos), Prasonisi beach, Tsambika beach
Resorts, beaches, sights or trips - clearly listed on the map of Rhodes.
Did you visit this place and do you have some additional informations, interessting observation or photos?