Kalamos Beach - Rhodes Island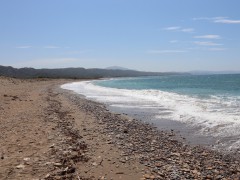 The unorganised sand and shingle beach of Kalamos is located on the southwest coast of the Greek island of Rhodes, about 77 km southwest of the capital city.
Rhodos, Kalamos on the map

Kalamos is an isolated beach located south of the Monolithos Resort. The beach is a purely natural beach, covered with a mixture of coarse sand and pebbles, but there is also a variety of twigs from the surrounding bushes and silt from the sea.
Due to the nature of the beach and the poorer access, you usually won't meet anyone here and you can enjoy the peace and privacy. To the north of Kalamos, Fourni Beach is located, which is just a little bit livelier and visitors can also find a small kiosk and a few sunbeds and umbrellas here.
More touristic destinations of Rhodes
Close beaches: Alyki beach, Apolakkia (Limni) beach, Fourni beach
Most favourite beaches of Rhodes: Afandou beach, Agathi beach (Agia Agatha), Agios Pavlos beach (Lindos - Saint Paul Bay), Anthony Quinn beach (Vagies), Elli beach (Rhodes Town), Faliraki beach, Megali Paralia beach (Lindos), Prasonisi beach, Tsambika beach
Resorts, beaches, sights or trips - clearly listed on the map of Rhodes.
Did you visit this place and do you have some additional informations, interessting observation or photos?