Ixia Beach - Rhodes Island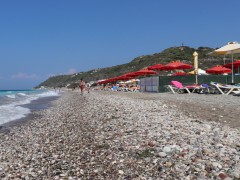 The wide and several kilometres long Ixia Beach is located at the northwest coast of the Greek island of Rhodes, only 5 km southwest of the capital city. Ixia Beach is mostly pebbly, with sandy and stony places.
Rhodos, Ixia on the map

Ixia Beach forms part of the tourist resort of the same name, Ixia. Ixia is one of the most developed resorts on the island of Rhodes, offering visitors various types of accommodation (from large luxury hotels, to bungalows with private pools, to individual rooms for rent) and a variety of tourist services. Ixia is a large hotel resort, whose major advantage is its proximity to the capital city of Rhodes.
If you walk along the coastline of Ixia, you may get the feeling that it is actually a row of contiguous beaches rather than one continuous beach. Either way, it's true that Ixia Beach is very varied - you'll find sandy and pebbly to rocky sections, with some sections being public and others private. Most of them are managed by the adjacent hotels and there are also several water sports centres (windsurfing, jet skiing, water skiing).
Ixia Beach provides good tourist facilities for its visitors and offers, among other things, the possibility of renting sunbeds and umbrellas and various sports activities. The beach is especially popular with windsurfing enthusiasts, but thanks to the quality facilities and beautifully clear water, it is suitable for almost everyone (families with children can also be seen here).
A promenade runs parallel to the beach, which leads you to the town of Rhodes. If you take this promenade, you can refresh yourself along the way in several bars, tavernas and Greek bakeries or visit various shops and stalls.
As elsewhere on the west coast of Rhodes, don't expect a calm and quiet sea here. On the other hand, despite smaller or bigger waves, the sea is still beautifully clear and blue. And there's usually a gradual entry into the water in this area.
More touristic destinations of Rhodes
Close beaches: Akti Miaouli beach (Rhodes Town), Elli beach (Rhodes Town), Ialyssos (Ialissos) beach, Kremasti beach, Kritika beach
Most favourite beaches of Rhodes: Afandou beach, Agathi beach (Agia Agatha), Agios Pavlos beach (Lindos - Saint Paul Bay), Anthony Quinn beach (Vagies), Elli beach (Rhodes Town), Faliraki beach, Megali Paralia beach (Lindos), Prasonisi beach, Tsambika beach
Resorts, beaches, sights or trips - clearly listed on the map of Rhodes.
Did you visit this place and do you have some additional informations, interessting observation or photos?