Ialyssos Beach (Ialissos) - Rhodes Island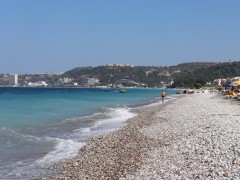 The long pebble beach of Ialyssos is located in the northwestern part of the Greek island of Rhodes, about 7 km southwest of the capital city.
Rhodos, Ialyssos (Ialissos) on the map

Ialyssos Beach forms part of the tourist resort of the same name, Ialyssos (Trianta), which is one of the most popular holiday resorts on the west coast of Rhodes. The resort of Ialyssos is quite large and lively and there are both modern hotel resorts (most close to the coast) and a quieter area with individual villas and gardens. Parts of Ialyssos Beach are private (hotel).
Ialyssos Beach lies on the windward side of the island and the sea is wilder here, what attracts especially windsurfers and kitesurfers. Only in the morning it is calmer, from midday onwards the wind starts to blow and bigger waves start to rise. The beach facilities and weather conditions are so good that several Greek and European windsurfing championships are held here every year. There are several surf schools on the beach that rent equipment and offer lessons for beginners.
The beach of Ialyssos is pebbly, flat and long, stretching practically along the entire length of the coastline between the neighbouring beaches of Kremasti and Ixia. It is an organised beach with very good facilities for tourists and visitors can use of a number of beach tavernas and bars, shops, sunbeds with umbrellas as well as toilet facilities. However, the beach is also often crowded in summer. Some parts of the beach are private and belong to the adjacent hotel resorts.
The sea is beautifully clean in this area. Pebbles and rubble prevail at the entrance to the water (water shoes are recommended) and the seabed then drops sharply down, so the beach is not very suitable for children and older tourists. In the summer season, noise from the nearby airport can be a distraction.
More touristic destinations of Rhodes
Close beaches: Ixia beach, Kremasti beach, Kritika beach
Most favourite beaches of Rhodes: Afandou beach, Agathi beach (Agia Agatha), Agios Pavlos beach (Lindos - Saint Paul Bay), Anthony Quinn beach (Vagies), Elli beach (Rhodes Town), Faliraki beach, Megali Paralia beach (Lindos), Prasonisi beach, Tsambika beach
Resorts, beaches, sights or trips - clearly listed on the map of Rhodes.
Did you visit this place and do you have some additional informations, interessting observation or photos?