Haraki Beach (Charaki) - Rhodes island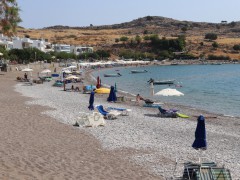 The peaceful, sandy (to sandy-pebbly) beach of Haraki is located on the eastcoast of the Greek island of Rhodes, about 36 km southwest of the capital city of Rhodes. The beach is bordered by a beautiful seaside colonnade.
Rhodos, Haraki (Charaki) on the map

Haraki (or Charaki) Beach forms part of the eponymous holiday resort of Haraki and is de facto the main place where the local social life takes place. The village of Haraki is located in a spacious bay, whose shores and sandy coastline are followed by a typical seaside promenade. Walking along the promenade, you have a long, sandy beach and the azure blue sea on one hand and a row of houses, guesthouses and apartments on the other, whose ground floors often serve as various shops, taverns and bars. So the tourist facilities of the beach are excellent.
Haraki Beach is mostly sandy, with fine pebbles and stones in some places. The beach is quite spacious, equipped with sunbeds and umbrellas, where you will see both older couples and young families with children. The beach is one of the quiet ones and among the small stones you can find shells, which children like very much. An advantage is also the gradual entrance to the sea.
The dominant feature of the area is the hill on which the ruins of the Johanniter castle of Feraklos rise. You can make your lazy time on the beach even more interesting with an interesting hike to the top of the hill. From the ruins you can enjoy a beautiful view of the surrounding area and the neighbouring beach of Agia Agatha, traditionally rated as one of the most beautiful beaches on Rhodes.
More touristic destinations of Rhodes
Close beaches: Agathi (Agia Agatha) beach, Kalathos beach, Massari beach
Most favourite beaches of Rhodes: Afandou beach, Agathi beach (Agia Agatha), Agios Pavlos beach (Lindos - Saint Paul Bay), Anthony Quinn beach (Vagies), Elli beach (Rhodes Town), Faliraki beach, Megali Paralia beach (Lindos), Prasonisi beach, Tsambika beach
Resorts, beaches, sights or trips - clearly listed on the map of Rhodes.
Did you visit this place and do you have some additional informations, interessting observation or photos?