Fanes Beach - Rhodes island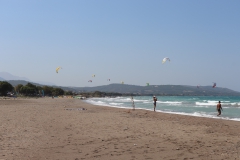 The long, spacious Fanes Beach lies at the northwest coast of the Greek island of Rhodes, about 26 km southwest of the capital city. The beach is especially famous among kite-surfers.
Rhodos, Fanes on the map

Fanes Beach forms part of the seaside resort of the same name, located at the northwest coast of Rhodes, between the other seaside resorts of Kalavarda and Soroni.
Fanes is a very spacious beach, about 400 m long and covered mostly with coarse sand, sometimes also with pebbles. At the entrance to the sea, there is only fine sand, which continues along the seabed. The entrance to the water in this area is gradual.
The beach also has a small fishing harbour (Fanes is a former fishing village), where local fishermen moor their boats and visitors to the local tavernas can enjoy really fresh seafood. The beach is lined with mature tamarisk trees, providing much needed shade in summer.
Fanes Beach has basic tourist facilities in the form of an excellent tavern right on the beach, which also has toilets and showers. Sun loungers and parasols can also be rent.
Fanes Beach is located in a quiet area of Rhodes, so there is no overcrowding even in the peak tourist season. The visitors here are mostly a close-knit group of kite-surfers and wind-surfers, to whom the beach itself is perfectly suited. There is a surf school, Meltemi KiteClub, which charges a fee to use the beach and ensures the safety of surfers (there is a lifeboat, for example). The kite-surfing school also rents out the necessary equipment and a beginners' course is also available.
The west coast of Rhodes is generally more windy and Fanes beach in particular creates ideal conditions for kite-surfing and wind-surfing, as it is windy almost all day, the entrance to the water is gradual and the beach is very open. Similarly, the nearby beach of Kalavarda is also popular with surfers. It is located about 4 km to the south and forms part of the eponymous resort of Kalavarda. Prasonisi Beach, located at the very southern tip of the island, is then described as a "surfers' paradise" on Rhodes.
More touristic destinations of Rhodes
Close beaches: Anemomilos (Anemomylos) beach, Kalavarda beach, Soroni beach
Most favourite beaches of Rhodes: Afandou beach, Agathi beach (Agia Agatha), Agios Pavlos beach (Lindos - Saint Paul Bay), Anthony Quinn beach (Vagies), Elli beach (Rhodes Town), Faliraki beach, Megali Paralia beach (Lindos), Prasonisi beach, Tsambika beach
Resorts, beaches, sights or trips - clearly listed on the map of Rhodes.
Did you visit this place and do you have some additional informations, interessting observation or photos?