Faliraki Beach - Rhodes island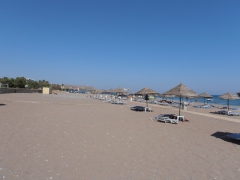 The long, sandy beach of Faliraki is one of the most popular beaches on Rhodes and is located on the eastern coast of the island, about 15 km from the capital city of Rhodes. Faliraki is an organised beach, with a large number of taverns, beach service and water sports on offer.
Rhodos, Faliraki on the map

The beautiful 5 km long sandy beach of Faliraki is a part of the eponymous tourist resort, which is one of the most visited holiday resorts on Rhodes. It's a place that really comes alive - on the beach and in the seaside tavernas during the day, in the discos and bars in the resort centre during the night. The resort of Faliraki is full of luxury hotel resorts and smaller hotels, so the adjacent beach glows with lots of multicoloured sunbeds and parasols. However in the high summer season, all this takes its toll and Faliraki beach can be very lively.
Faliraki Beach offers its visitors a very good service and facilities in the form of a number of beach taverns and bars, beach stalls and social facilities. A wide range of water sports is also popular, you can try for example water skiing, windsurfing and much more. There is also a diving club. In the southern part of the beach you can swim to a small island, which is probably best seen while snorkelling (but beware of water urchins).
The beach is suitable for families with children who, in addition to good facilities, appreciate the spaciousness of the beach and the gradual entrance to the sea.
Faliraki is known for the impressive Faliraki Water Park, which is considered as the largest water park in Europe. A day full of water fun can be enjoyed here by young as well as by old.
For tourists looking for a quieter environment, we recommend for example the Kathara Beach, which is located near Faliraki Beach, by the small fishing harbour.
More touristic destinations of Rhodes
Close beaches: Kathara beach, Mandomata beach, Nikolas beach, Oasis beach, Tasos beach
Most favourite beaches of Rhodes: Afandou beach, Agathi beach (Agia Agatha), Agios Pavlos beach (Lindos - Saint Paul Bay), Anthony Quinn beach (Vagies), Elli beach (Rhodes Town), Faliraki beach, Megali Paralia beach (Lindos), Prasonisi beach, Tsambika beach
Resorts, beaches, sights or trips - clearly listed on the map of Rhodes.
Did you visit this place and do you have some additional informations, interessting observation or photos?