Elli Beach (Rhodes Town) - Rhodes island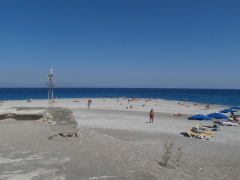 The beautiful sandy to sandy and shingly beach of Elli is located on the northern tip of the Greek island of Rhodes, directly at the capital city of Rhodes.
Rhodos, Elli (Rhodes Town) on the map

Elli Beach is located on the northeast coast of the capital city of Rhodes, a short walk from the city centre. Elli is rated as one of the most beautiful beaches on Rhodes, covered with beautifully fine sand, gradually turning into a mixture of sand and pebbles. Of particular interest is the sandy outcrop right in front of the famous Rhodes Marine Aquarium, where the Aegean and Mediterranean seas meet. The beach then continues along the northeast coast to the old port of Mandraki. The sea in this area is crystal clear and usually calm on the leeward side.
Elli is an organised and very well equipped beach. There are plenty of sunbeds and colourful umbrellas, beach bars and restaurants for visitors to enjoy. The beach is equipped with a volleyball court (tennis courts can be found next to the casino afterwards) and adrenaline junkies can try out the most popular water sports. There are hotels in close proximity to the beach and, in addition to the unique marine aquarium building, the Rhodian Casino building also stands out. Elli beach is very lively and usually occupied by hotel guests in the main summer season. The locals sometimes call it the "Trambolino Beach".
More touristic destinations of Rhodes
Close beaches: Akti Miaouli beach (Rhodes Town), Ixia beach, Kritika beach, Zephyros beach
Most favourite beaches of Rhodes: Afandou beach, Agathi beach (Agia Agatha), Agios Pavlos beach (Lindos - Saint Paul Bay), Anthony Quinn beach (Vagies), Elli beach (Rhodes Town), Faliraki beach, Megali Paralia beach (Lindos), Prasonisi beach, Tsambika beach
Resorts, beaches, sights or trips - clearly listed on the map of Rhodes.
Did you visit this place and do you have some additional informations, interessting observation or photos?