Apolakkia Beach (Limni) - island of Rhodes
Limni Beach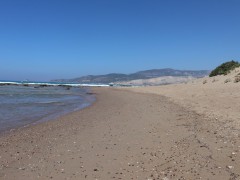 The vast, pebbly beach of Apolakkia lies in the southwestern part of the Greek island of Rhodes, about 87 km southwest of the capital city. The beach is purely natural and unorganised.
Rhodos, Apolakkia (Limni) on the map

The beach is named after the nearby village of Apolakkia, located about 2 km inland. Apolakkia is a traditional small village where the local inhabitants are mainly engaged in agriculture.
Apolakkia Beach is a natural part of the local coastline, which is protected under the European Natura 2000 network. The bay of Apolakkia creates its own ecosystem made up of sand dunes and shrubs of the wild cedar Juniperoys Oxycedrus. Two important and protected animal species have also been observed on the site, namely the Loggerhead sea turtle (Caretta-Caretta) and the Mediterranean monk seal (Monachus-Monachus).
Apolakkia beach is almost 4 km long and very spacious. It is ideal for sunbathing and for relaxing in silence and privacy. Due to the large rocks protruding from the sea, it is not entirely safe for small children, but also smaller, sheltered sandbanks can be found here. However, due to strong underwater currents, we do not recommend swimming further out to open sea.
More touristic destinations of Rhodes
Close beaches: Kalamos beach, Kouloura beach
Most favourite beaches of Rhodes: Afandou beach, Agathi beach (Agia Agatha), Agios Pavlos beach (Lindos - Saint Paul Bay), Anthony Quinn beach (Vagies), Elli beach (Rhodes Town), Faliraki beach, Megali Paralia beach (Lindos), Prasonisi beach, Tsambika beach
Resorts, beaches, sights or trips - clearly listed on the map of Rhodes.
Did you visit this place and do you have some additional informations, interessting observation or photos?