Anthony Quinn Beach - Rhodes island
Vagies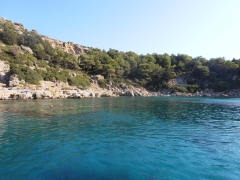 One of the most beautiful beaches on Rhodes is located on the east coast of the island, 20 km south of the capital city. Anthony Quinn Beach is rather small and narrow, pebbly and only partially organised. However, thanks to the crystal clear water, it offers amazing snorkelling and diving opportunities.
Rhodos, Anthony Quinn on the map

The original name of the beach was Vagies. However, thanks to the movie "The Guns of Navarone" (1961), which was shot in this beautiful place, the beach became famous and the locals decided to rename it after the protagonist of the film, the famous Mexican-American actor Anthony Quinn. Since then, the bay has been named after him.
The small bay, located between the beaches of Faliraki and Ladikou, is only partly organised - there are sunbeds and umbrellas for visitors and one tavern nearby. The beach is especially popular with young people who come here to snorkel. Thanks to the surrounding greenery reflecting on the surface of the water, the water glows emerald green. There is also a diving club here and in some internet postings, one can read that the beach is also sought out by people with a positive attitude towards nudism.
The roughly 500 m long beach is a combination of sand, pebbles and stones. Because of the sharp rocky outcrops protruding from the water and the beach, this place is not suitable for families with children or for older visitors. Tourists head here mainly in July and August, the rest of the year the water is too cold for most people. The closest resort to the beach is Faliraki (about 3 km), where all tourist services are available.
More touristic destinations of Rhodes
Close beaches: Kathara beach, Ladikou beach, Mandomata beach, Traganou beach
Most favourite beaches of Rhodes: Afandou beach, Agathi beach (Agia Agatha), Agios Pavlos beach (Lindos - Saint Paul Bay), Anthony Quinn beach (Vagies), Elli beach (Rhodes Town), Faliraki beach, Megali Paralia beach (Lindos), Prasonisi beach, Tsambika beach
Resorts, beaches, sights or trips - clearly listed on the map of Rhodes.
Did you visit this place and do you have some additional informations, interessting observation or photos?