Anemomilos Beach (Anemomylos) - Rhodes island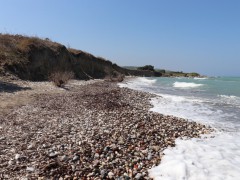 The secluded pebble beach of Anemomilos is located on the northwest coast of the Greek island of Rhodes, about 30 km southwest of the capital city.
Rhodos, Anemomilos (Anemomylos) on the map

The surface of Anemomilos (or Anemomylos) beach is a mixture of sand, pebbles and larger stones and there are also various branches blown in from the surrounding vegetation. The biggest "accumulation" is at the entrance to the water, but after a few meters in the sea you will feel only soft sand under your feet. The water in this area is beautifully clear.
There is generally a strong wind on the west coast of Rhodes, which sometimes blows seaweed onto the beach. Most of the time, however, there are only small waves that allow swimming. Water shoes are a must for this place, but there are some nice spots where you can spread out your towel.
Anemomilos is a natural and unorganised beach, with no tourist facilities in the form of sunbeds or tavernas. The only tourist amenity here is a beach shower. However, this is enough, because tourists who visit the beach are looking for silence, privacy and proximity to nature.
The access road to the beach leads through a short detour from the main road. It is a dusty natural road, passable for cars and scooters. Anemomilos Beach is located on the west coast of the island, close to the resorts of Kalavarda and Fanes.
More touristic destinations of Rhodes
Close beaches: Fanes beach, Kalavarda beach, Kamiros beach, Soroni beach
Most favourite beaches of Rhodes: Afandou beach, Agathi beach (Agia Agatha), Agios Pavlos beach (Lindos - Saint Paul Bay), Anthony Quinn beach (Vagies), Elli beach (Rhodes Town), Faliraki beach, Megali Paralia beach (Lindos), Prasonisi beach, Tsambika beach
Resorts, beaches, sights or trips - clearly listed on the map of Rhodes.
Did you visit this place and do you have some additional informations, interessting observation or photos?