Alyki Beach - Rhodes island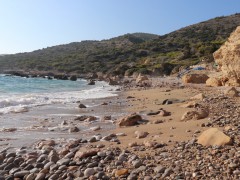 The very quiet, pebble beach of Alyki is located on the southwest coast of the Greek island of Rhodes, about 76 km southwest of the capital city of Rhodes.
Rhodos, Alyki on the map

Alyki Beach (also spelled Aliki) is located directly below the Rhodian village of Monolithos, dominated by the medieval Monolithos Castle, built on the local rock. If you head down to the coast from the resort, a narrow winding road will take you to a sign that says "Alyki Beach".
The beach is mostly pebbly to rocky, but you'll find places of fine sand at the very entrance to the water. However, some of the rocks can be sharp and get very hot in the summer, so water shoes are recommended for this beach. The shores here are washed by a beautifully clear sea, sometimes with bigger waves. The beach is surrounded by interesting rock formations and the underwater reefs attract fishermen and sport divers.
It is a very quiet beach and it is not uncommon to be alone here even in the peak tourist season. Alyki is an unorganised beach, but there are sunbeds available for rent. However, be sure to bring your own water and food.
Nearby, along the coast to the south, is Fourni Beach. This is also one of the quieter beaches in Rhodes, but it is already larger and more frequented by tourists and there is also a refreshment stand.
More touristic destinations of Rhodes
Close beaches: Fourni beach, Kalamos beach
Most favourite beaches of Rhodes: Afandou beach, Agathi beach (Agia Agatha), Agios Pavlos beach (Lindos - Saint Paul Bay), Anthony Quinn beach (Vagies), Elli beach (Rhodes Town), Faliraki beach, Megali Paralia beach (Lindos), Prasonisi beach, Tsambika beach
Resorts, beaches, sights or trips - clearly listed on the map of Rhodes.
Did you visit this place and do you have some additional informations, interessting observation or photos?