Koules Fortress (Heraklion) - Crete
Rocca al Mare, Kastro Koules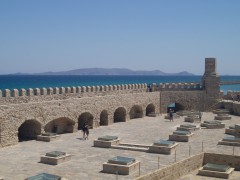 The massive medieval fortress of Rocca al Mare, today more known as Koules, stands at the old Venetian harbour of the capital city of Heraklion. The Koules Fortress is one of the main symbols of Crete´s capital city.
Kréta, Koules Fortress (Heraklion) on the map

After the Venetians took over the rule of Crete was taken over by the Venetians and the piracy in the Mediterranean Sea became more common, the need to protect the strategic and significant points of Crete has risen. In the 16th century, the Venetians built the massive fortress of Rocca Al Mare (translated as the "Sea Fortress") for a better protection of the harbour. It was built on the place where a round guarding tower from the Byzantine Period was standing. Later, when the Ottomans captured Crete, they renamed the fortress to Koules (in Turkish "Fortress"). This name remained and is used until today.
The fortress had to resist strong sea waves as well as enemy attacks, especially when gunpowder and cannons were invented. Therefore, the outside walls are almost 9 metres strong while the inside walls reach a thickness of around 3 metres. The fortress was designed as a two-storey building, where the first floor was used for accommodation of the officers while the ground floor served as a storing place, mostly of food, ammunition or sweet water. During the Turkish occupation, on the ground floor also was a prison, which is told to be very cruel.
Today, the well-preserved fortress is accessible for the public and is often used for cultural and social events.
More touristic destinations of Crete
Most favourite sights of Crete: Agia Triada (archaeological site), Archaeological Museum Heraklion, Phaistos (archaeological site), Gortyn (archaeological site), Arkadi Monastery, Knossos (archaeological site), Church of Four Martyrs, Fortezza Fortress (Rethymno), Frangokastello Fortress, Spinalonga Fortress, Windmills on Lasithi Plateau
Resorts, beaches, sights or trips - clearly listed on the map of Crete.
Did you visit this place and do you have some additional informations, interessting observation or photos?