Visitation of Ancient Thera - Santorini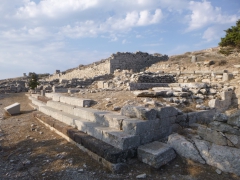 The ancient city of Thera (or also Thira) was extending on the foot of the Mesa Vouno mountains in the south eastern part of Santorini. It was a very developed city and a religion and trade centre of the island which you can, thanks to the archaeological excavations, admire also today.
Santorini, Visitation of Ancient Thera on the map

Ancient Thera belongs to the¬†most significant sights of Santorini¬†and bears witness of its long colonization, as there were remains¬†found¬†already from the period of antiquity. Most of the artefacts come from the¬†Hellenic and Roman times¬†and can be seen in the¬†National archaeological museum in Athens¬†or in the¬†Archaeological Museum of Thera, located in¬†Santorini¬īs¬†capital city of Fira. In the area of the excavations you can admire the ruins of the¬†Hellenic temple of Dionysus¬†together with other persisted things or just walk along the fundamentals of the city walls and ruins of other buildings.¬†More information about the history and shape of Ancient Thera can be found in the section Sights - Thera (archaeological site). A big part of the city has been discovered during the excavations therefore¬†the site is quite vast and also good reachable and labelled.
The top of Mesa Vouno can be reached from two directions. From Kamari resort it is possible to go by car. If you want to go from Perissa, you have to walk on a small zig-zag path going to the top, which is definitely worth a walk. Thanks to the height of 365 metres above sea level you can also enjoy a beautiful view.
For visiting the archaeological site an entrance fee has to be paid and in the last seasons the opening hours were limited from 8:30 to 14:30, with Monday closed all day.
More touristic destinations of Santorini
Tips for trips on Santorini: Caldera Boat Trip, Sunset in Oia, Most beautiful beaches of Santorini, Discovering the beauties of the capital city of Fira, Visiting Ancient Thera
Resorts, beaches, sights or trips - clearly listed on the map of Santorini.
Did you visit this place and do you have some additional informations, interessting observation or photos?