Tour to the beauties of the capital city of Fira - Santorini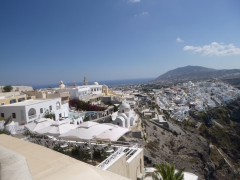 Fira (Thira or also Thera) is the capital city of the Greek island of Santorini and lies on its west coast. It is a beautiful, picturesque city with typical white-blue coloured small houses built on high cliffs, that is worth your visitation.
Santorini, Tour to the beauties of the capital city of Fira on the map

The city of Fira was built on the edge of a volcano crater, what the local architecture had to adapt on. Houses dug directly into the rocks are typical for the city. At first sight the houses seem to be small, but in fact they are quite spacious because they usually have several floors - untypically built downwards and not upwards. The ground floors are not always put inside the rocks. They commonly have windows and terraces, but the main entrance is unexpected on the uppermost floor. Often the houses are connected to each other by small corridors. If you have the possibility, try to visit one of these houses.
The lovers of history will be pleased as well, as there is a famous archaeological museum located in the city, protecting the found artefacts from all Santorini, especially then from the Mesa Vouno mountains. You can see numerous statues here as well as dishes, amphoras and many other things coming from various historical periods. Further, you can visit also the Naval museum or some galleries of art from the Greek artists. If you would also like to make some shopping during your visit, go to the big marketplace in the city centre, which is surrounded by many small shops and boutiques and where you can spend some time in several bars or restaurants.
In case you would like to make this tour with a travel agency, prepare yourself for a half-day trip because the tour consists of exploring the capital city of Fira with a tourist guide and also shopping or spending time in a cafe. The guided tours have a big advantage because you can get some interesting information, but on the other hand you have to follow-up a timetable.
More touristic destinations of Santorini
Tips for trips on Santorini: Caldera Boat Trip, Sunset in Oia, Most beautiful beaches of Santorini, Discovering the beauties of the capital city of Fira, Visiting Ancient Thera
Resorts, beaches, sights or trips - clearly listed on the map of Santorini.
Did you visit this place and do you have some additional informations, interessting observation or photos?