Sunset in Oia - Santorini
...and visiting traditional villages of Santorini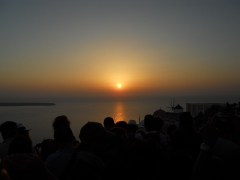 If you are searching for a tip for a romantic trip, visit the village of Oia. Oia is famous for its breathtaking sunsets and therefore a visit during the evening hours will surely be an unforgettable experience for you. While travelling to the north of the island you can also visit some traditional villages of Santorini or for example taste the delicious wines of the local wineries.
Santorini, Sunset in Oia on the map

If you choose a facultative trip for visiting Oia, you can usually enjoy a half-day bus tour. Your first stop will be the early Byzantine church from 11th century Panagia Episkopi, which is the oldest church on the island. The trip will go through the most fertile regions of the islands followed by a walk through Pyrgos, Santorini´s highest village, which is famous for the beautiful Cycladic architecture and a big number of sights from the Byzantine and Venetian periods as churches and bell towers. You also will have the possibility to visit the "ghost village" of Mesa Gonia, destroyed by the massive earthquake in 1956. During the stop in the city of Imerovigli you can adore an amazing view over the caldera and the ruins of Skaros castle. The tour ends in the city of Oia, one of the most beautiful places on the island. Here you will have some time to look over the city, buy some souvenirs and wait for the evening to enjoy the stunning sunset what Oia is famous for.
The travel agencies offer various variations of this trip where you can also visit the famous Santowines winery instead of some of the upper mentioned villages and try their best wines together with learning many interesting facts about the production. During the bus ride the delegates often talk about Santorini and its inhabitants, culture, habits etc.
More touristic destinations of Santorini
Tips for trips on Santorini: Caldera Boat Trip, Sunset in Oia, Most beautiful beaches of Santorini, Discovering the beauties of the capital city of Fira, Visiting Ancient Thera
Resorts, beaches, sights or trips - clearly listed on the map of Santorini.
Did you visit this place and do you have some additional informations, interessting observation or photos?